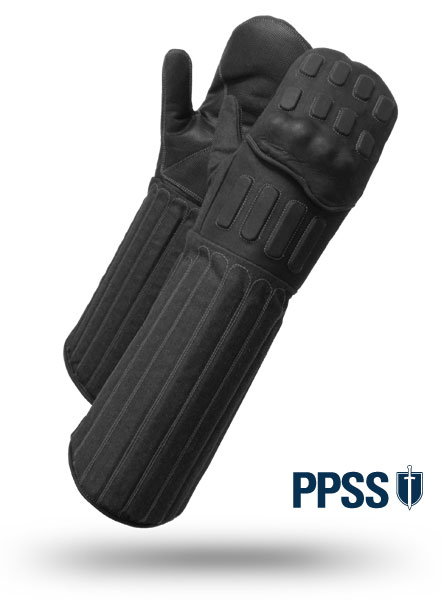 Today we have launched our

ZEUS II – The World's Toughest Dynamic Entry Mitten
The 'ZEUS II' mitten are a much improved version of our original ZEUS mitten, now also featuring a very high level of flame protection.
Our key objective was to create once again a piece of personal protective equipment (PPE) that in quality terms is 'as good as it gets', and also effectively helps homeland security professionals to come home safely.
ZEUS II are the ultimate dynamic entry mitten to be worn during the initial stage of any forced entry or dynamic entry operation. Tight fitting pistol/firearm gloves can be worn underneath, and as soon as forced but safe entry has been gained, the ZEUS II mitten can easily be removed allowing the operative to draw his/her pistol if required.
World famous Nomex® is offering an excellent level of heat and flame protection.

Cut-Tex® PRO

one of the toughest man made fabrics is responsible for the highest level of cut, tear and abrasion resistance, and tough strips of a unique type of polycarbonate are offering crucial protection from 'crashing' of broken glass onto ones hands, often resulting in cut arteries or nerves and subsequent long lasting injuries.
Performance Specification:
EN 388:2003 Cut Resistance Level 5 (the highest level possible)
EN 388:2003 Puncture Resistance Level 4 (the highest possible)
EN 388:2003 Abrasion Resistance Level 4 (the highest possible)
EN 388:2003 Tear Resistance Level 4 (the highest possible)
EN 407 5.1 Burning Behaviour – Flame Resistance Level 4 (the highest level possible)
EN 407 5.3 Convective Heat – Heat Resistance Level 3 (forearm) and level 4 (palm of hand)
Solid carbon knuckle protection
Polycarbonate sheets along the tops of all fingers, back of the hand and entire forearm area, offering additional puncture protection (from fallen glass e.g. during forced entry operations.
Official test reports are available upon special request
I think it is fair to say… whatever type of equipment my firm has created so far, it has always been of outstanding quality and is always offering the highest possible level of protection possible.
We believe that SWAT, correctional and law enforcement officers engaging with seriously hostile members of the public deserve to be equipped appropriately. These men and women must be issued with the very best protective equipment and clothing out there.
Too many of these highly respected frontline professionals still suffer from severe cut and puncture injuries following forced entry operations, often the result from broken glass, destroyed doors and smashed windows. Many of these injuries can result into cut arteries and nerves and subsequent long term disabilities.
"Only one officer sustained minor injuries when authorities conducted a forced entry into a home, Rockel said. The officer accidentally cut himself while entering the home"
, was a statement we could read following a forced entry operation on the 25th April 2013, executed by Williamson Police in West Virginia, USA (

view here

).
I can assure everyone, this type of PPE is exactly what has been requested by many of our friends, associates and customers within the North American homeland security sector and their colleagues from around the world… and we really do listen to these men and women!
If you have any further in reference to this product or any other type of high performance body armour, please visit

www.ppss-group.com

email my team

info@ppss-group.com

or call us on +44 (0) 845 5193 953